UPDATE: 04.06.2020
"Maggie's Story" made it to YouTube. Please watch to learn more about "our" turtle and Nature Trust Malta's important work.
Of course we uploaded the video with NTM's permission.
🇩🇪🇩🇪🇩🇪🇩🇪🇩🇪
"Maggie's Story" ist jetzt auf YouTube verfügbar! Bitte anschauen, denn die Arbeit von "Nature Trust Malta" ist so wichtig!
Natürlich hatten wir die Erlaubnis das Video hochzuladen.
VIDEO: Magie's Story
UPDATE: 28.05.2020
A wonderful plan for "Maggie" – A Prosthetic Flipper for a better life!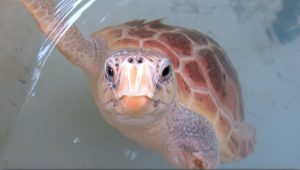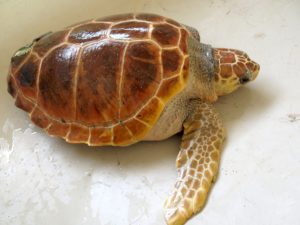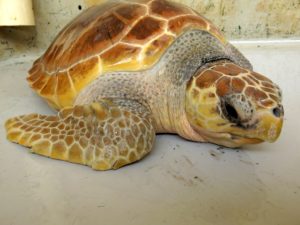 Friends, as you know we "adopted" Maggie and are therefore thrilled about this development.
Thanks @NatureTrust Malta and veterinary surgeon, Dr Antony Grupetta.
We really hope this plan will work and that Maggie will gain a little independence!
And guys, please help, if you can 😉
Please read Nature trust Malta's statement:
Maggie, the loggerhead sea turtle, is the mascot for our rescue centre. She was rescued on the 9th of June 2019, 5.4 nautical miles (10 km) out at sea in the south of Malta. She has lost a front flipper and parts of the two rear flippers due to marine debris and nets, which restricted blood circulation in these parts of her body. Maggie is living proof of the damages which are derived from Ghost Nets.
Since she has only one flipper left, it is hard for her to swim and dive. As part of her rehabilitation programme, we put some weights on her shell to improve her buoyancy. We also put her in a deep tank to monitor whether she adapts to its handicap and manages to improve her diving skills. We have observed some improvements but she still swims in circles as a result of having just one flipper. Therefore Maggie will not be able to be released back into her home, the ocean. She will be a permanent resident at our rescue centre.
Nevertheless we have not given up and will continue to train her to swim, dive and are looking for some solutions to improve her quality of life. We believe that a prosthesis is one such solution, as it will balance her movement from her own flipper.
Thanks to our veterinary surgeon, Dr Antony Grupetta, we are starting to take X Ray scans to see if we can make a prosthetic flipper and how to fit it on Maggie.
You can also be part of our campaign and help her to have a better quality of life. If interested head to our Facebook – Adopt a Turtle page and get in touch via messenger.
🇩🇪🇩🇪🇩🇪🇩🇪🇩🇪
Ein toller Plan für "Maggie" – Eine Flossen-Prothese für ein besseres Leben!
Wie ihr wisst, haben wir Maggie "adoptiert" und freuen uns deshalb riesig über diese Entwicklung. Danke an Nature Trust Malta und Tierarzt/Chirurg Dr Antony Grupetta.
Wir hoffen sehr, dass der Plan umsetzbar ist, und Maggie dadurch etwas Selbstständigkeit gewinnt.
Bitte helft und unterstützt das Projekt, wenn ihr könnt!
Hier die Übersetzung des Statements von "Nature Trust Malta":
Maggie, die Loggerhead Meeresschildkröte (Unechte Karettschildkröte), ist das Maskottchen unserer Rettungsstation. Sie wurde am 09.06.2019, 5.4 Seemeilen (10km) vor der südlichen Küste Maltas aus dem Mittelmeer gerettet. Durch Plastikmüll und Fischernetze, die ihre Blutzirkulation abgeschnitten hatten, hat sie eine Vorderflosse und Teile beider Hinterflossen verloren. Maggie ist das lebende Bespiel für die Gefahren durch Geisternetze.
Da Maggie nur noch eine intakte Flosse besitzt, hat sie große Probleme beim Schwimmen und Tauchen. Um ihren Auftrieb und ihr Gleichgewicht im Wasser auszugleichen, wurden Gewichte an ihrem Panzer angebracht. Zudem kam sie in ein tiefes Becken, um zu beobachten, wie sie sich an die Behinderung anpasst, und ob sich ihre Tauchfähigkeit verbessert. Wir haben einige Verbesserungen festgestellt, aber sie kann immernoch nur im Kreis schwimmen; das Resultat von nur einer Flosse.
Deshalb kann Maggie nicht ausgewildert werden und bleibt also Dauerbewohnerin unserer Station.
Trotzdem geben wir nicht auf, trainieren mit ihr schwimmen und tauchen und suchen nach Möglichkeiten ihre Lebensqualität zu verbessern.
Wir glauben, eine Flossen-Prothese ist eine solche Chance. Denn diese könnte ihre Balance verbessern und die Bewegung der gesunden Flosse ausgleichen.
Mit der Hilfe von Tierarzt Dr. Antony Grupetta werden wir Röntgenaufnahmen anfertigen, um festzustellen ob es möglich ist eine (3D) Prothese herzustellen, und wie diese angepasst und befestigt werden könnte.
Auch sie können bei diesem Projekt mitmachen und Maggie helfen, eine bessere Lebensqualität zu erlangen. Haben wir ihr Interesse geweckt? Dann besuchen Sie bitte unsere Facebook – Adopt a Turtle Seite und schreiben sie uns eine Nachricht über den Messenger.
UPDATE: 27.05.2020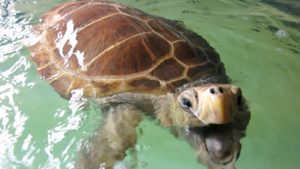 With the help of Cynthia from Nature Trust Malta, Carmen and I found a new turtle we want to help, "MAGGIE".
Please watch the attached video to learn more about her story.
🐢🐢🐢🐢
Facebook Video:  Maggie's Story 
🐢🐢🐢🐢
And if you want to know more about helping seaturtles like "Maggie" and "Bob" please visit:
Facebook Page: Adopt a Turtle
🇩🇪🇩🇪🇩🇪🇩🇪🇩🇪
Mit Hilfe von Cynthia vom Nature Trust Malta haben Carmen und ich einen neuen Schützling gefunden; "MAGGIE".
Weiter oben findet ihr den Link zu einem Maggie – Video.
Und außerdem den Link zur "Adopt A Turtle" Seite des Nature Trust – FEE Malta, falls es Euch packt, und Ihr ebenfalls helfen möchtet 😉
UPDATE: 26.05.2020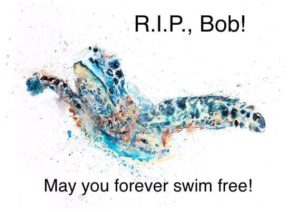 Sad news, indeed 😞
We were informed by Nature Trust Malta that poor Bob died from late effects of his injuries.
R.I.P., Bob
We will of course continue to support NTM's great work by adopting another of their patient loggerhead sea turtles.
🇩🇪🇩🇪🇩🇪🇩🇪🇩🇪
Traurige Neuigkeiten 😞
Wir wurden von Nature Trust Malta darüber informiert, dass Bob an den Spätfolgen seiner Verletzungen eingegangen ist.
R.I.P., Bob
Natürlich werden wir den NTM weiterhin unterstützen, und einen weiteren Meeresschildkröten-Patienten adoptieren.
15.05.2020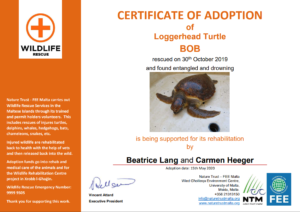 May we present: BOB!
Carmen and I are extremely happy!!!
Thanks to Nature Trust Malta for giving us this chance to help and support a seaturtle!
🇩🇪🇩🇪🇩🇪🇩🇪🇩🇪
Dürfen wir vorstellen? BOB!
Carmen und ich freuen uns riesig! Es ist toll, den Schutz von Meeresschildkröten zu unterstützen!
#AdoptingATurtle
#LoggerheadTurtle
#Malta