Ever since our first visit to Malta back in 2009 the Corinthia Palace
is our home away from home! We are very familiar with the staff
and we know the building and surroundings inside and out.
And you know what is a great indication for choosing the right hotel?
When members of staff are coming up to your table and are wishing #GoodLuck and #FingersCrossed for your event during breakfast, shortly after the hotel posted about it on their Facebook page.
Please check out their Website : Corinthia Palace Hotel & Spa Malta
Find them on Facebook : Corinthia Palace Hotel & Spa and follow @CorinthiaPalace on Twitter.
THIS was published two days after the #MalteseCrossing: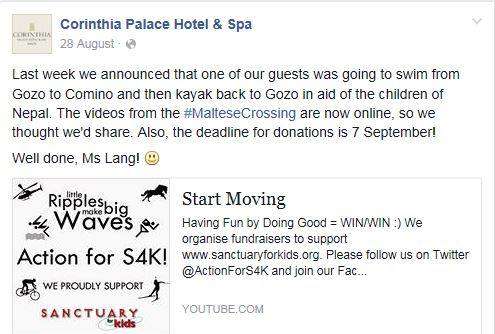 Oh, and they promised to support us again!
This time for the Scuba Diving for S4K in June 2018!
A truly heartfelt THANK YOU to everyone at the "Corinthia Palace Hotel & Spa Malta".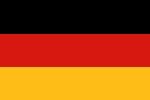 Seid unserer ersten Reise nach Malta, im August 2009, ist das Corinthia Palace unser zu Hause weg von zu Hause! Wir kennen die Belegschaft, wir kennen das Haus, wir kennen die Umgebung, es ist halt wirklich alles wie daheim.
Und wisst Ihr, wann Ihr sicher seid, das es die richtige Entscheidung ist, nicht doch mal das Hotel zu wechseln? Wenn man Dir morgens beim Frühstück "viel Erfolg" und "wir drücken die Daumen" sagt, weil das Management kurz zuvor einen Post über Deinen Event bei Facebook und Twitter veröffentlicht hat.
Bitte besucht die Homepage: Corinthia Palace Hotel & Spa Malta, klickt "Gefällt mir" auf Facebook: Corinthia Palace Hotel & Spa und folgt @CorinthiaPalace auf Twitter.
Oh, und sie haben versprochen uns auch Scuba Diving for S4K im Juni 2018 zu unterstützen! Toll, oder?
Deshalb ein ganz herzliches Dankeschön an das gesamte Team vom "Corinthia Palace Hotel & Spa Malta".