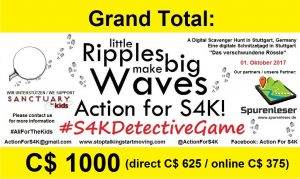 Dear friends,
this one was so much fun 🙂
We teamed up with a local company, who are specializing in outdoor-adventures and exit-games: spurenleser.de.
Our joint-venture happened on October 1st 2017 in Stuttgart: The "S4K Detective Game". (Twitter: #S4KDetectiveGame)
We met our MC, René at 11am at the three statues outside the Landesmuseum Würrtemberg facing the Karlsplatz. Please check the photo or Google Maps.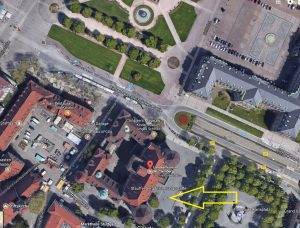 He carried bright orange "Spurenleser" bags.
Our task: Stuttgart's "Rössle" (Stuttgart's emblem) went missing and we had to find it. We got tablets, an evidence bag, got hints and challenges whilst searching the city for it. In short: We were sent on a Digital Scavenger Hunt. it took us 3 hours, but both teams cracked the case!

Of course anybody was welcome to join in the hunt and the fun:

This was the fabulous deal:
(1) We don't have to pay the usual fee of €290 for setting up the event.
(2/3) Every participant paid €25 instead of €29 per person, and ALL of this money endet up in our collecting tin!
THANK YOU SO MUCH at SPURENLESER.
You would love to sponsor this fundraiser? Fabulous! There are still a few days left to do so:
And who knows, perhaps we will crack the big C$1000 to help children in crisis?
Just click here Sanctuary for Kids (Donate), choose "S4K Detective Game" as Designated Fund and send a copy of your "S4K" confirmation Email to ActionForS4K@gmail.com, so we can count your donation. Deadline for donations is October 8th / 21:45 GMT+2, as we will publish the Grand Total at 22:00.
🇬🇧🇬🇧🇬🇧🇬🇧🇬🇧🇬🇧🇬🇧🇬🇧🇬🇧🇬🇧
PLEASE CHECK OUT OUR PHOTOS / BITTE SCHAUT EUCH DIE FOTOS AN:
AND SLIDESHOW:
S4K Detective Game / SLIDESHOW / YouTube
🇩🇪🇩🇪🇩🇪🇩🇪🇩🇪🇩🇪🇩🇪🇩🇪🇩🇪🇩🇪
Liebe Freunde,
das war ein riesiger Spaß 🙂
Wir haben uns mit spurenleser.de zusammen getan, die sich auf Outdoor-Adventures und Exit-Games spezialisiert haben.
Unser gemeinsamer Event fand am 01. Oktober 2017 in Stuttgart statt: Das "S4K Detective Game". (Twitter: #S4KDetectiveGame)
Um 11:00 trafen wir unseren Spielleiter, René bei den drei Außenskulpturen am Landesmuseum Württemberg auf der Seite des Karlsplatzes. Siehe Foto oder Google Maps.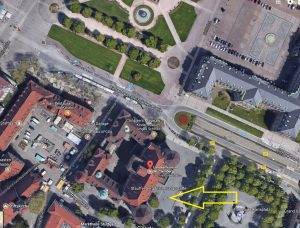 Er war erkennbar an den  leuchtend-orangefarbenden Spurenleser-Taschen.
Unsere Aufgabe: Das Stuttgarter Rössle (das Wahrzeichen der Stadt) ist verschwunden. Mit Tablets bewaffnet, mussten wir es einer 3-stündigen Jagd durch die Innenstadt wiederfinden. Mit jeder Menge Rätsel und Team-Aufgaben war alles dabei, was eine digitale Schnitzeljagd spannend macht.

Und natürlich konnte wieder Jeder bei diesem Fundraiser mitmachen!
Hier kommt das tolle Angebot:
(1) Die üblichen Event-Kosten von €290 wurden uns komplett erlassen.
(2/3) Jeder Teilnehmer zahlte €25 statt €29 und ALLES landete in unserer Sammelbüchse.
VIELEN, VIELEN DANK AN DIE SPURENLESER.
Ihr möchtet uns sponsern? Super! Ein paar Tage habt Ihr dafür noch Zeit:
Und wer weiß, vielleicht knacken wir ja sogar C$1000 für Kinder in Not?
Klickt einfach auf diesen Link Sanctuary for Kids (Donate), wählt "S4K Detective Game" als "Designated Fund" aus, und leitet bitte noch die Email-Bestätigung von "S4K" an ActionForS4k@gmail.com weiter, denn nur so können wir die Spende zählen. Deadline für Spenden ist der 08. Oktober um 21:45. Das Gesamtergebnis wird dann direkt um 22:00 veröffentlicht.