We are still completely blown away… The things we did; the things we saw; the kindness and friendship we experienced during those 4 weeks… AMAZING!
And all of this in the middle / during the chaos of the global pandemic.
And on top of it all that very message from Irena and Dieter who had to change their holiday plans over and over again, just to end up in Malta at the same time we were over, and joining the "Action" team for quite a few of our activities… Utterly CRAZY!
We never expected this fundraiser to turn out that well; leave alone its success!
Best holiday ever! AND making €1147 for those in need, what more can one ask for?… WONDERFUL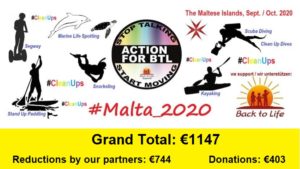 This year's "Action" challenges supporting Back to Life:
#PADIScubaDivingSpecialities : (1) PADI Wreck Diver & (2) PADI Digital Underwater Photographer and #FunDives with Neptunes Diving Malta
Many #FunDives and two #DivesAgainstDebris (Clean Ups) with Cresta Dive Centre Malta
#Segway Tour, #Jeep Tour and #CleanUp with Gozo Segway Tours
#Adventure Tour and #Mini Clean Up with Gozo Adventures
#SegwayTour of Valletta with Malta Segway Tours
#PaddlingTour with MC Adventure
#MarineWildlifeSpottingTour with Eco Marine Malta
#TurtleRelease with Nature Trust Malta