We are really happy to introduce you to our partners at "Neptunes Diving Malta".
If you are visiting "The Rock" (aka as "Malta") please consider Franca and Martin to be your guides for fantastic underwater experiences!
Neptunes Diving can be found:
On Facebook: NeptunesDiving_Facebook
On Twitter: NeptunesDiving_Twitter
And of course they run a website as well: NeptunesDiving_Website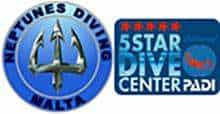 We are teaming up with "Neptunes" for our summer fundraiser in June 2018, participating & hopefully passing their PADI Open Water Diver Course:
4 days of training plus exams… we will feel like being back to school!
Best of all: "Neptunes" gave us a disount which we already happily passed on to "Sanctuary for Kids"
Read more about our newest fundraiser right here: Scuba Diving for S4K