Ein dickes DANKESCHÖN an alle Teilnehmer des "S4K Detective Game" am 01. Oktober!
Ich denke wir können sagen: Alle hatten irre viel Spaß, sind etliche Kilometer durch die Stuttgarter City gelaufen und BEIDE Teams* haben den Fall gelöst.
*Die "Kampfspätzle" haben um Haaresbreite vor den "Furchtbaren 6" gewonnen.
Zusätzlich haben auch ein paar Elo#1 Buttons und einige von Elisabeths Armbändern gegen eine Spende ein neues Zuhause gefunden, einfach toll!
Möglich wurde dieser Fundraiser durch das unentgeltliche Bereitstellen und Vorbereiten des super spannenden TABventure "Das verschwundene Rössle" durch unsere Partner von SPURENLESER.DE.
Ihr seid einfach Spitze und wir freuen uns schon auf die nächste gemeinsame Aktion zu Gunsten von Sanctuary for Kids!
Nicht vergessen, bis zum 08.10. / 21:45 kann man diesen Fundraiser noch sponsern.
Eine Anleitung fürs Spenden, Infos, Fotos und eine Slideshow gibt es auf der Event-Seite: S4K Detective Game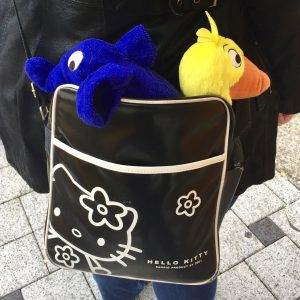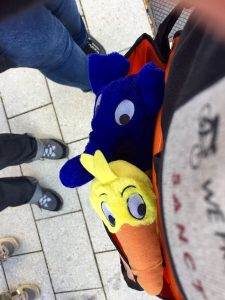 A HUGE Thank You to all participants of the "S4K Detactive Game" on October 1st.
We can confirm: Everyone had tons of fun; we walked several kilometers through Stuttgart City and yes, BOTH teams* succeeded and solved the case.
*The "Kapfspätzle" won by narrow margin against the "Furchtbaren 6".
In addidtion, a few Elo#1 buttons and Elisabeth's bracelets found new owners. Wonderful!
This fundraiser was made possible by our wonderful partners SPURENLESER.DE, who did not only prepare the amazing TABventure "Das verschwundene Rössle" for us, but also donated EVERYTHING!
You guys are amazing and we are already looking forward to our next adventure in aid of Sanctuary for Kids.
Please don't forget that this fundraiser can be sponsored until October 8th / 21:45 / GMT+2.
Infos of how to donate, photos and a slideshow can be found on S4K Detective Game.
Please follow and like us: