Dear friends,
it feels wonderful to be back online after moving our website to its own webspace 🙂
It has been more complicated than we expected but after quite a few stressful evenings and lots of help and support from colleagues and friends, Carmen managed to get us up and running again last night, so well in time for Christmas, the New Year and… oh yes, let's not forget….our upcoming fundraiser #BiathlonForS4K_3
Today we also received news from Nepal. Michael Hess from NOH gave us an update on the current situation regarding the border blockage and some future plans for the kids.
Here are a few excerpts from his Email, which left us both relieved but also quite alert of future developments; especially as news coverage reagarding the Indian-Nepalese border-conflict is practically non-existant (at least here in Germany).
"All is well here, we are getting ready for Christmas and the kids are happy.
The weather is cold and the electric often out, about 10 hours per day, cooking gas is almost non existent and we rely on electric rice cookers when the electric is accommodating, wood fires also when not."
"We received word that Hope has been accepted at Shriners hospital in Boston USA, we are supposed to be there on the 14th."
"Seven years ago a filmmaker started a documentary on NOH and finished it recently. The premier was yesterday evening in Toronto Canada. I have not heard any news yet from anyone, hopefully it all went okay."

Please check out NOH's own website for updates and ways to help Michael, his fabulous team and of course the kids.
And please keep in mind that NOH is known for helping those less fortunate, and believe us, we have seen this happening on numerous occasions…
Click here for Nepal Orphans Home
Last but not least Michael allowed us to share this beautiful #Christmas photo with you. We truly hope it will put smiles on your faces 🙂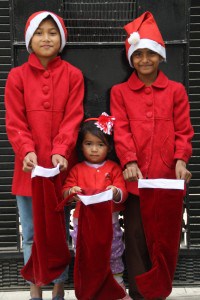 From left to right: Kajul, Hope and Prity