… is the great little hotel we are staying at for every "S4K Biathlon Workshop" since our first "edition" back in 2014.
And it felt wonderful to return for "Biathlon For S4K_4" in early February 2017.
Until summer 2016 it was run by a lovely couple who became our first ever sponsers…
But after learning about our intentions and background, the new owners Bernadette and Roger Gasser agreed to continue our partnership straight away, amazing, right?!
So everytime we are staying with them for a fundraiser they donate part of their profits to "S4K"!
So generous and truly wonderful!
Please check out their Website : Hotel Gersbacherhof
and like them on Facebook : Hotel Gersbacherhof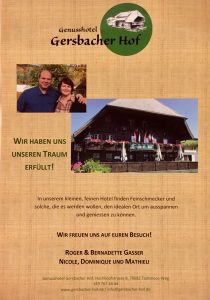 🇩🇪🇩🇪🇩🇪🇩🇪🇩🇪🇩🇪🇩🇪🇩🇪🇩🇪🇩🇪
Der "Gersbacherhof" ist ein tolles, kleines, familiäres Hotel, indem wir seit unserem ersten #S4K Biathlon Workshop 2014 immer wieder gerne "residieren".
Und ja, unser Aufenthalt Anfang Februar 2017 während "Biathlon For S4K_4" war wieder super schön!
Die "alten" Besitzer waren auch unsere allerersten offiziellen Sponsoren.
Doch jetzt kommt das Besondere: Nachdem die neuen Besitzer Bernadette und Roger Gasser mehr über unsere Absichten und die Hintergründe erfahren hatten, haben Sie sich sofort bereit erklärt die Partnerschaft weiterzuführen. Genial, oder?
Bei jedem Aufenthalt spenden Sie einen Teil ihres Gewinns an "Sanctuary for Kids". Wahnsinnig großzügig und einfach nur toll!
Bitte besucht die Webseite: Hotel Gersbacherhof und klickt "Gefällt mir" auf Facebook: Hotel Gersbacherhof
Dankeschön!