Liebe Freunde!
Anfang April 2018 wurden wir aus heiterem Himmel von der Nachricht überrascht, das "Sanctuary for Kids" zu Ende des Jahres die Arbeit einstellen wird. Wie Ihr Euch sicherlich vorstellen könnt, war das erstmal ein Schock für Carmen und mich, vor allem, weil wir mitten in den Vorbereitungen für unseren Sommer-Fundraiser auf Malta steckten. Aber natürlich war für uns sofort klar, dass wir weitermachen, denn Anderen zu helfen ist uns schließlich ein Bedürfnis.
Die Frage war nur, für welche Charity machen wir nach "Scuba Diving For S4K" weiter, denn wir wollten – inspiriert durch unseren Aufenthalt im Sommer 2015 – auch weiterhin unbedingt in Nepal helfen.
Unsere Wahl fiel direkt auf "Back To Life", die wir schon seit Jahren mit einer Geburtshauspatenschaft finanziell unterstützen. Und siehe da, sie zeigten sofort Interesse und nach einem ausgiebigen Telefonat können wir offiziell "Back To Life" als "unsere" neue Charity vorstellen.
Mit einer deutschen Organisation wird für uns die Kommunikation und das Handling sicherlich auch einfacher, direkter und schneller.
"Back To Life" unterhält Projekte in den abgelegensten und ärmsten Regionen Nepals mit Fokus auf:
* Bau von Geburtshäusern (Mugu)
* Bau & Ausstattung von Schulen & Kindertagesstätten inkl. Lehrerfortbildung
* Direkte Förderung der schulischen Ausbildung von ca. 390 Mädchen (Chitwan)
* Bau von sanitären Anlagen,
aktive Gesundheitsvorsorge und Hygieneaufklärung
* Medizinische Hilfe durch Healthcamps
* Existenzförderung durch Mikrokredite und Trainings
* Installation von Solarlichtern und rauchfreien Öfen (Mugu)
* Bau von Biogasanlagen, Solarlichtern und Lehmöfen (Chitwan)
* Verbesserung landwirtschaftlicher Erträge
inkl. Verteilung von Ziegen und Saatgut
* Umwelt- und Ressourcenschutz
Erdbeben-Soforthilfe
* Notversorgung mit Notunterkünften, Nahrungsmitteln, Wasser, Kochgeschirr, Medikamenten
* Unterstützung von Krankenhäusern, Health Camps in Sindhupalchok und Nuwakot
Wiederaufbau in Erdbebengebiet Nuwakot:
* Wiederaufbau von 6 zerstörten Schulen
* Wiederherstellung der Wasserversorgung im Dorf Bhaduwar
* Landwirtschaftliche Programme zur Einkommensverbessung
Bitte klickt Euch durch die "Back To Life" Webseite: Back to Life
Wir heißen jetzt folglich "Action For BTL" und unsere Kommunikation läuft über die Mailadresse: carmen_und_bea@web.de.
Wir hoffen, Ihr seid auf weiterhin mit dabei und wir werden noch viele gemeinsame Abenteuer bestehen!
Alles Liebe und "Namaste", Bea und Carmen
@ActionForBTL
PS: Als deutsche Charity stellt "Back To Life" auch Spendenquittungen aus.
Sponsern / Spenden läuft über die Back To Life Homepage. Gebt bitte unbedingt "Action For BTL" als Betreff an; damit die Spende zugeordnet werden kann. Weitere Infos zum Spenden werden rechtzeitig zu unserem nächsten Fundraiser veröffentlicht.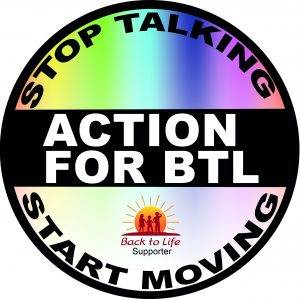 Dear Friends,
in April 2018 we were confronted with the announcement, that "Sanctuary for Kids" will close down at the end of this year. This news came out of the blue and as a real shock to Carmen and myself, especially as we were in the middle of preparing our summer-fundraiser in Malta.
We decided straight away to continue with our charity work, as helping others is a matter very close to our hearts.
The only question was, which charity to support after "Scuba Diving For S4K". As, after our visit in 2015, we wanted to continue helping a charity working in Nepal. Our logical first choice was "Back To Life", as we had already supported them financially for years and already knew a lot about their projects. Fortunately they were interested and after a terribly productive telephone call, we are really happy to introduce "Back To Life" as "our" new charity.
"Back To Life" is a not-for-profit organization based in Germany. They run numerous projects in the most remote and poorest areas of Nepal, concentrating on:
* Improving the situation of women
* Building Birthing houses – this is a revolution for the women of Mugu
* Workshops in active health care, hygiene, personal hygiene, dental care
* Clean Drinking water
* Building schools, promoting education and literacy
* Socio-economic prospects for agriculture
* Environmental and resource protection (Smoke-free stoves & solar energy)
* Promoting sustainability by micro-credit – savings groups
* Medical help through "Health Camps"
Please visit the "Back To Life" Webseite: Back to Life
As a result we changed our name to "Action For BTL" and our Email to carmen_und_bea@web.de.
We really hope you will stay with us and we will experience many more fundraising adventures together.
All our Love and #Namaste, Bea and Carmen
@ActionForBTL
PS: You can sponsor / donate via the "Back to Life" website. Please put "Action For BTL" as subject of your donation, so your donation can be correctly allocated… More infos on how to sponsor will be published in time for our next fundraiser.
Please follow and like us: