***********************************************************
WICHTIG: 100% der Einnahmen dieses "Shops" gehen direkt an "Back to Life", denn die Käufer überweisen immer direkt an die Charity.
IMPORTANT: 100% of this store's incomes will go directly to "Back to Life", as buyers will donate directly to the charity.
***********************************************************
Our friend Elisabeth creates beautiful bracelets to support "Back to Life".
Bracelets are €12,50 each.
As postage is already included, all the money goes directly to "BTL".
You found a bracelet you like? Wonderful:
1.- Please write down its number and measure your wrist.
2.- Donate €12,50 via Back to Life – Donate; stating "Action For BTL" as subject matter, so your donation can be matched to us. 
3.- Send the number of the bracelet, your wrist size, your address and the confirmation of your donation to elisabethsaccessoires@gmx.de; and Elisabeth will get back to you asap.
Please read Elisabeth's statement.
"Hi everyone,
on this page you can have a look at the bracelets I create to support "Sanctuary for Kids" (as from June 2018 "Back to Life").
I always wanted to support this charity and I am really happy to have found a way of doing it with my creativity.
A few facts about myself, perhaps? I am Elisabeth, I am 32 years old, I was born, raised and live in central Germany where I work as a hearing aid acoustican. In my spare time I don't just love creating bracelets, but also acrylic painting and origami. I have a huge DVD and book collection, love baking and cooking and I enjoy playing board-games with my friends. Oh, and I hate shopping.
How did I get in touch with S4K? I was a Stargate fan from day one; ever since I saw the first episode in German Free TV – Wednesday was Stargate-Day -. This show combined so many fields I was interested in as a teenager: Ancient Egypt, Mythology and Astronomy; and I am still fascinated by the series. Samantha Carter became a role model for me. And as a logical consequence I more and more turned into a real Amanda Tapping fan. I am inspired by her quotes and ideas and I am terribly happy to have found my own way of supporting her charity and the kids. I am really happy to use this website as a platform for my creations. It is run by two girls I really grew to like. Over the years I have seen different projects come and go but this one is still alive and kicking. I am happy they let me be a part of this venture, and that I am not left alone with my ideas. The two of them organised quite a few fundraisers in aid of "S4K" already. Investing time, energy and emotions. They truly gained my greatest respect. 
Why bracelets? A few years ago I started to create jewellry and I love it! Not only bracelets, but earrings, necklaces, keychains and tiaras as well. The idea of selling them came pretty early on. I decided on bracelets as they are durable and usually reach their destination in one piece. And hey, not everyone has ear-piercings, right? Necklaces are often pretty pompous and therefore can't be worn on a regular basis; the same goes for tiaras. The only other option could have been keychains but bracelets are worn openly and hold a symbolical meaning fro me: Buttons close things. To me they are a symbol of closure or an ending. Every donation is the happy ending of a story that started with the decision to help someone else. A symbol of stepping closer together, a reminder of being "one". The smallest deed can create the biggest change. This reminds me of the "S4K" motto: "Little Ripples Make Big Waves". I believe in this quote and I truly hope that my bracelets will do great things for kids in need.
I think that's enough from me. I hope you'll find a bracelet you like!
Elisabeth xox"
🇩🇪🇩🇪🇩🇪🇩🇪🇩🇪🇩🇪🇩🇪🇩🇪🇩🇪
Elisabeth bastelt wunderschöne Armbänder zu Gunsten von Back to Life.
Jedes Armband kostet €12,50.
Da Elisabeth die Versandkosten übernimmt, gehen also die kompletten Einnahmen direkt an "BTL".
Ihr habt ein Armband gefunden, das Ihr gerne bestellen wollt? Super:
1.- Notiert Euch bitte die Nummer und messt Euer Handgelenk.
 2.- Spendet €12,50 über die Back To Life Homepage Back to Life – Spenden. Gebt bitte unbedingt "Action For BTL" als Betreff an; damit die Spende zugeordnet werden kann.
 3.- Schickt die Nummer des Armbands, die gewünschte Länge des Armbands, Eure Adresse und die Spendenbestätigung an elisabethsaccessoires@gmx.de; Elisabeth wird sich direkt bei Euch melden.
Bitte lest Elisabeths Statement:
"Hallo
Auf dieser Seite könnt Ihr meine Armbänder bewundern, die ich sehr, sehr gerne für "Sanctuary for Kids" (* ab Juni 2018 für "Back to Life") abgebe. Ich wollte schon immer S4K auf eine besondere Art unterstützen und freue mich, das hier, mit meinen kreativen Fähigkeiten zu tun.
Tja, ein wenig zu meiner Person vielleicht?
Ich heiße Elisabeth, bin 32 Jahre alt und lebe in der Mitte von Deutschland. Ich bin hier aufgewachsen und arbeite als Hörgeräteakustikerin.
In meiner Freizeit bin ich gerne kreativ, ich kreiere nicht nur Armbänder, sondern liebe auch andere Dinge wie das Malen mit Acrylfarben oder Origami. Ansonsten habe ich eine riesige DVD und Büchersammlung, koche und backe gerne, spiele gerne mit meinen Freunden Brettspiele und ich hasse es zu shoppen.
Wie kam ich zu S4K?
Ich bin seit fast der ersten Minute "Stargate" Fan. Als ich meine allererste Folge im deutschen Free TV sah, – Mittwochs war Stargate Tag – war ich sofort hin und weg. Die Serie vereinte Themen die mich damals als Teenie interessierten: Das alte Ägypten, Mythologie und das Feld der Astronomie.
Inzwischen interessiert mich das nicht mehr so sehr, aber die Faszination für die Serie ist geblieben. Samantha Carter war für mich damals ein starkes Vorbild, und so wurde ich immer mehr zum Amanda Tapping Fan. Ich finde ihre Ideen und Aussagen inspirierend und ich freue mich, dass ich auf diesem Weg Ihre Charity und damit die Kinder unterstützen kann.
Dazu kommt, dass ich als Plattform diese wundervolle Webseite von zwei Mädels nutzen darf, die ich inzwischen sehr gerne mag, und deren Arbeit und Durchhaltevermögen ich sehr bewundere. Ich habe im Laufe der Jahre unterschiedliche Projekte kommen und gehen sehen, doch dieses ist noch immer in vollem Gange. Ich freue mich sehr, dass sie mich an ihrem Projekt teilhaben lassen, dass ich meinen Beitrag leisten kann und mit meiner Idee nicht komplett alleine bin.
Die Beiden haben über die Jahre viele Events zugunsten von S4K veranstaltet, ihre Zeit, ihre Energie und ihr Herz in das Projekt gesteckt. Dafür haben sie meinen größten Respekt und ich weiß gar nicht wie ich das honorieren kann, denn die Beiden verdienen es, auf Händen getragen zu werden.
Warum Armbänder? Ich habe in den letzten Jahren meine Freude am Herstellen von Schmuckstücken entdeckt. Nicht nur Armbänder, sondern auch Ketten, Ohrringe, Schlüsselanhänger und Tiaras. Der Gedanke sie zu verkaufen, kam schon recht früh. Ich habe mich für Armbänder entschieden, weil sie  robust sind, und sich deshalb weltweit verschicken lassen, ohne kaputt beim Empfänger anzukommen. Außerdem hat nicht jeder Ohrlöcher. Ketten aus Perlen sind meist sehr pompös und werden daher nicht oft getragen, Tiaras haben da ein ähnliches Problem. Schlüsselanhänger wären noch eine Option gewesen, aber ein Armband trägt man ganz offen und es hat damit auch eine symbolische Wirkung. Knöpfe verschließen Dinge, Knöpfe sind für mich ein Symbol für einen Abschluss. Jede Spende ist ein Abschluss für den Entschluss, einem anderen Menschen etwas Gutes zu tun. Ein Symbol, das wir als Menschen dichter zusammenrücken sollten, die Erinnerung, dass wir eine Einheit sind.
Denn die kleinsten Taten, können schon – wie der Flügelschlag eines Schmetterlings – großes Bewirken. Dazu fällt mir das "S4K" Motto: "Little Ripples Make Big Waves" ein. Diese Aussage entspricht der Wahrheit und ich hoffe dass meine Armbänder – als eine solche Kleinigkeit – für die Kinder etwas Großes bewirken können.
Ich denke, das war nun genug von mir. Ich hoffe Ihr findet ein Armband, das Euch gefällt.
Eure Elisabeth"
_______________________________________________________
(1) Blue / Green
Blue glass-cubes with small, green acrylic-beads
(1) Blau / Grün
Blaue Cubes aus Glas, kleine grüne Acrylperlen als Trenner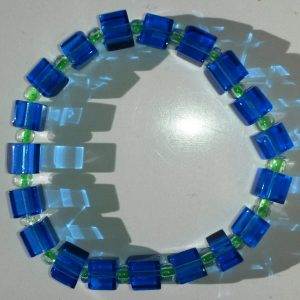 (2) RedYellow / Blue
crackled red/yellow glass-beads and blue wax-beads
(2) RotGelb / Blau
Rotgelbe Perlen aus Glas, gecrackelt; blaue Wachsperlen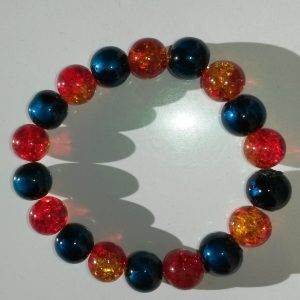 (3) Dice
Red and black acrylic dice with small white beads
(3) Würfel
Rote und schwarze Würfel aus Acryl mit Trenner in weiß ebenfalls Acryl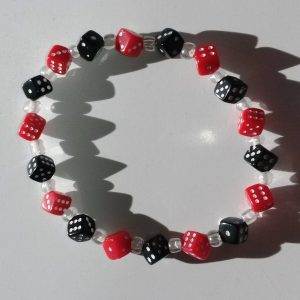 (4) Blue patterned
Red wax-beads, blue structured beads with brown patterns
(4) Blau gemustert
Rote Wachsperlen, als Trenner hellblaue Struckturperlen aus vermutlich Keramik mit braunem Muster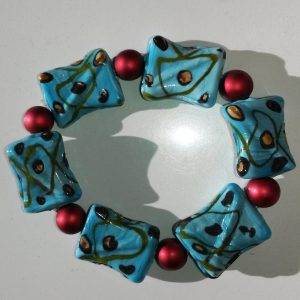 (5) White / Golden / Blue
Wax-beads in white, golden and blue
(5) Weiß / Gold / Blau
Wachsperlen in weiß, gold und blau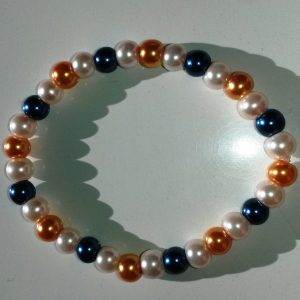 (6) Dark Pink and Blue
Wax-beads in dark pink and blue
(6) Rosa / Blau
Wachsperlen in rosa und blau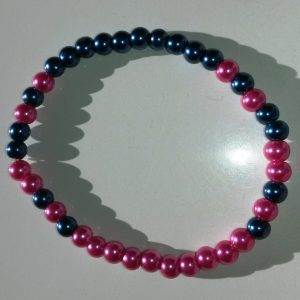 (7) Blue / Pink
Patterned, blue beads with light-pink beads. Acrylic.
(7) Blau / Rosa
Blaue gemusterte Perlen aus Acryl mit zartrosa Zwischenperlen aus Acryl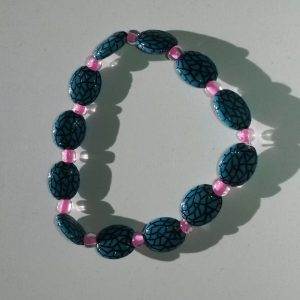 (8) RedYellow / BlackWhite
Red/Yellow, crackled glass-beads with Black/White, striped acrylic-beads.
(8) Rotgelb / Schwarzweiß
Rotgelbe gecrackelte Glasperlen, gepaart mit schwarzweiß gestreiften Acrylperlen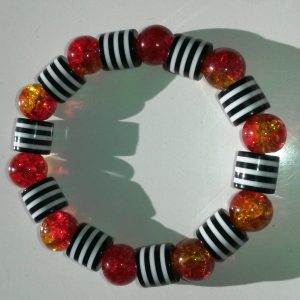 (9) Flower
Lightblue acrylic-beads framing a siver-coated flower.
(9) Blume
Hellblaue Acrylperlen Rahmen eine silber beschichtete Blume ein, in der sich gelbe Acrylperlen befinden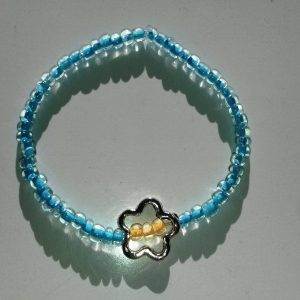 (10) Pink drop
Drop-shaped, pink wax-beads with black/white acrylic cubes
(10) Pinke Tropfen
Tropfenförmige, pinke Wachsperlen mit schwarzweiß gestreiften Cubes aus Acryl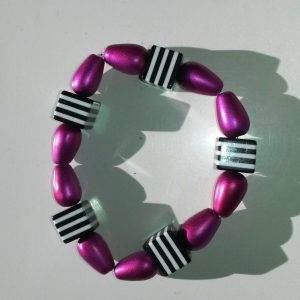 (11) Pink / Silver
Patterned, pink and white/silver acrylic-beads
(11) Pink / Silber
Pink gemusterte und weisssilberne Acrylperlen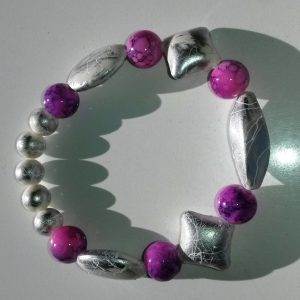 (12) Black Petals
Black wax-pearls and black Fimo-pearls with colourful petals
(12) Schwarze Blüten
Schwarze Wachsperlen und Fimoperlen mit bunten Blüten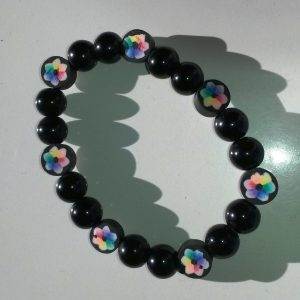 (13) BlueYellow / Blue
Crackled, blue/yellow glass-beads and blue/black wax-beads
(13) BlauGelb / Blau
Blaugelbe, gecrackelte Glasperlen und blauschwarze Wachsperlen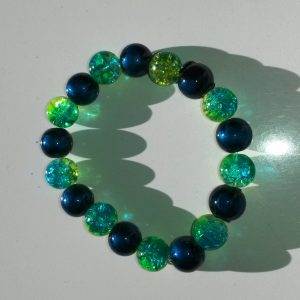 (14) Shells
Gray wax-beads and pink shells
(14) Muscheln
Grau Wachsperlen und pinke Muschelperlen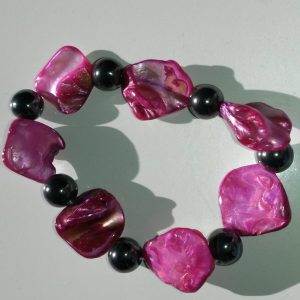 (15) Brown / Silver
Brown glass-cubes and siver wax-beads
(15) Braun / Silber
Braune Cubes aus Glas und silberne Wachsperlen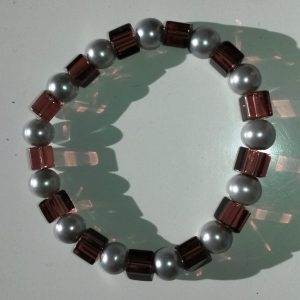 (16) Blue Button
Lightblue acrylic-beads with a varnished wooden button.
(16) Blauer Knopf
Hellblaue Acrylperlen und lackierter (vermutlich Holz) Knopf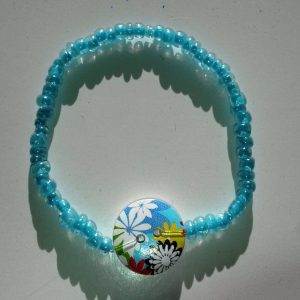 (17) Lilac Button
Lilac acrylic-beads with a varnished wooden button.
(17) Lila Knopf
Lila Acrylperlen und lackierter (vermutlich Holz) Knopf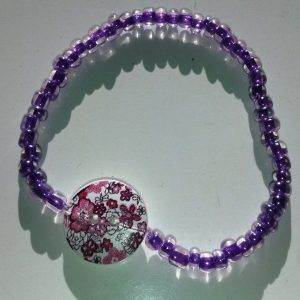 (18) Green Button 
Green acrylic-beads with a varnished wooden button.
(18) Grüner Knopf
Hellgrüne Acrylperlen und lackierter (vermutlich Holz) Knopf
(19) Pink Button 
Pink acrylic-beads with a varnished wooden button.
(19) Pinker Knopf
Pinke Acrylperlen und lackierter (vermutlich Holz) Knopf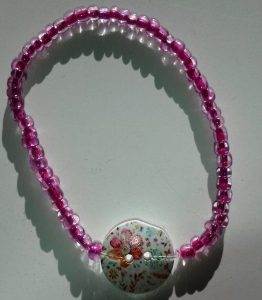 (20) Paw-Print
Gray acrylic-beads with a varnished wooden paw-print button
(20) Tatze
Knopf in Tatzenform und Print aus vermutlich Holz mit grauen Acrylperlen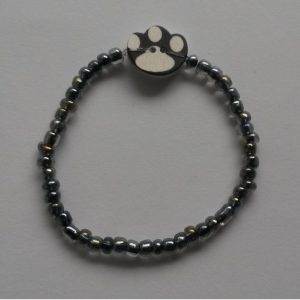 (21) Darkblue / Brown
Darkblue acrylic-beads with one brown wooden bead
(21) Dunkelblau/Braun
Dunkelblaue Acrylperlen und eine braue Holzperle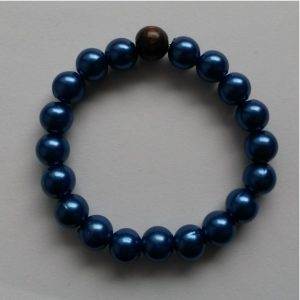 (22) Surprise-Bracelet made from mixed blue/turquoise beads
(22) Überraschungsarmband aus Beutel mit blauen/türkisenen Perlen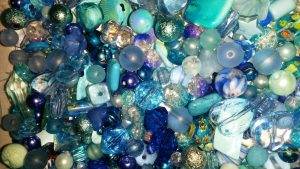 (23) Surprise-Bracelet made from mixed green/yellow beads
(23) Überraschungsarmband aus Beutel mit grünen/gelben Perlen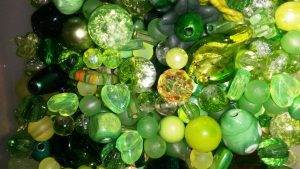 (24) Surprise-Bracelet made from mixed red/pink/orange beads
(24) Überraschungsarmband aus Beutel mit roten/pinken/orangenen Perlen