A FABULOUS RESULT! / EIN TOLLES ERGEBNIS!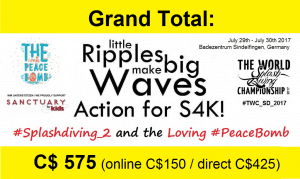 A HUGE THANK YOU TO EVERYONE WHO PARTICIPATED, DONATED AT THE #TWCSD_2017 AND SPONSORED ONLINE! LET'S HOPE WE CAN DO THIS AGAIN IN 2018!
DANKE AN ALLE TEILNEHMER; DIREKT-SPENDER BEI DER SPLASHDIVING WM UND ONLINE-SPONSOREN! ES WÄRE TOLL; DIESE AKTION IM NÄCHSTEN JAHR ZU WIEDERHOLEN!
The best of our fabulous Loving #PeaceBomb pics, taken by Jürgen Wandtke from Canon-Academy have now been uploaded to our Loving #PeaceBomb Album. Find it here: Fundraiser Photos
A resumé of #Splashdiving_2 and the Loving #PeaceBomb‬ at World Champioship Splashdiving 2017 #TWCSD_2017:
Sun(burns), lots of fun, lots of great competitions, new World Champions, a great atmosphere, meeting old and making new friends, making interesting new contacts, answering questions about Nepal and S4K, selling all of our cupcakes, and quite a few Elo#1 buttons and "Action Bottles".
And LAST but not LEAST: Day_1 and _2 saw a total of 47(!) Loving #PeaceBombs in aid of Sanctuary for Kids.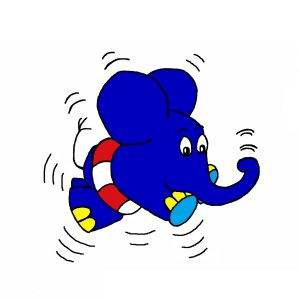 Die besten Fotos der Loving #PeaceBomb Aktion sind hochgeladen; Ihr findet sie hier: Fundraiser Photos
#Splashdiving_2 und die Loving #PeaceBomb‬ bei World Champioship Splashdiving 2017 #TWCSD_2017 – Eine Zusammenfassung:
Sonnenbrand, ganz viel Spaß, tolle Wettbewerbe, neue und alte Weltmeister, eine tolle Atmosphere, alte Freunde wiedertreffen, neue Freunde gewinnen, neue Kontakte knüpfen, Fragen zu Nepal und S4K beantworten, Cupcakes, #Elo#1 und "Action Bottles" verkaufen.
Und ganz, ganz wichtig: An beiden Tagen wurden 47(!) Loving #PeaceBombs zu Gusten von Sanctuary for Kids gesprungen!

Please follow and like us: